Upcoming Events
BABY & KIDS CHARITY FLEA MARKET - FEB 3RD

Sell and buy pre-loved kiddies stuff at this popular event! Baby & kids clothes, toys, gear, accessories, equipment, strollers, shoes, car seats etc. Free kids entertainment, bouncy castle, face painter and more

Learn more:
Restaurants & Bar offers
FROY'S SPECIALS
Date: Saturday – Thursday
Time: 6pm - 11pm
Venue: El Sombrero
Price: AED 70 for a gordita & a frosty bottle of hops


This January, do not miss your chance to try Mexico's famous gorditas. A gordita in Mexican cuisine is a pastry made of corn masa with a filling of your choice.
WINTER TRUFFLE PROMOTION
Date: Daily
Time:

Lunch: 12:00 PM-3:30 PM & D

nner: 6:00 PM-11:00 PM

Venue: La Mamma
Price: 3-course set menu AED 207

"This is something you should taste at least once in your life", says Simone. A 3-course set menu of starter, pasta and dessert will be available at La Mamma throughout the month of January at a special discounted price.
Happy Hours
Daily
Time: 12:00 PM - 8:00 PM
Venue: Tavern Pub
Enjoy refreshing beverages at a discounted price daily at our traditional British Pub Tavern, with a LIVE BAND Sun - Fri 8pm onwards.
Fizzy Brunch
Flavours Restaurant
Fridays 12:30 PM – 3:30 PM
Prices from AED 216
Book for 10 guests or more & get 20% discount
Offer valid until 28th February 2017
Diners can relish fresh seafood including oysters, lobsters and mussels, Arabian and Far-Eastern delicacies, traditional Mexican, Italian and Spanish dishes, various live cooking stations and a real dessert extravaganza. Party atmosphere is guaranteed by our resident bands with their absolutely fabulous repertoire and performance.
ALL YOU CAN EAT MEXICAN
Date: Fridays
Time: 6:00 PM onwards
Prices from AED 249
Venue: El Sombrero
Come to our El Sombrero restaurant for a fun night out and enjoy unlimited Mexican dishes as well as unlimited Margaritas and Mexican drinks with our LIVE BAND!
SEAFOOD NIGHT
Date: Wednesdays
Time: 7:00 PM - 11:00
Prices from AED 229
Venue: Flavours restaurant
Our seafood night offers a unique menu that features seasonal ingredients and signature dishes such as grilled lobster, jumbo prawns, poached salmon, whole baked tuna, lobster bisque with truffle, seafood stew, paella and much more.
ALL YOU CAN EAT SPANISH FOOD
Date: Fridays & Sundays
Time: 6:00 PM - 11:00 PM
Venue: Bravo, Spanish restaurant
Prices from AED 220
This summer try authentic Spanish dishes at Bravo restaurant with all you can eat and all you can drink sangria. Indulge on unlimited tapas and savour the best paella in town with glasses of refreshing sangria to cool off during the summer heat.
NEW MENU AT LA MAMMA
Date: Open daily
Time:

Lunch: 12:00 PM-3:30 PM &

Dinner: 6:00 PM-11:00 PM

Venue: La Mamma, Italian restaurant
Immerse yourself in culinary delights at our renowned Italian restaurant. Serving your favourite Mediterranean dishes designed by our award winning Chef Simone. La Mamma offers a wide selection of Italian flavours served in a trattoria-style setting.
NEW Offers & Discounts
Dual Membership:

Sheraton Abu Dhabi Hotel & Resort + Le Meridien Abu Dhabi
Price: from AED 2975 NET
Duration: 1, 3, 6 & 12 months
For information call 02 697 0272 or email sheraton.resort@sheraton.com
Teacher Discount at Sheraton Resort: 40%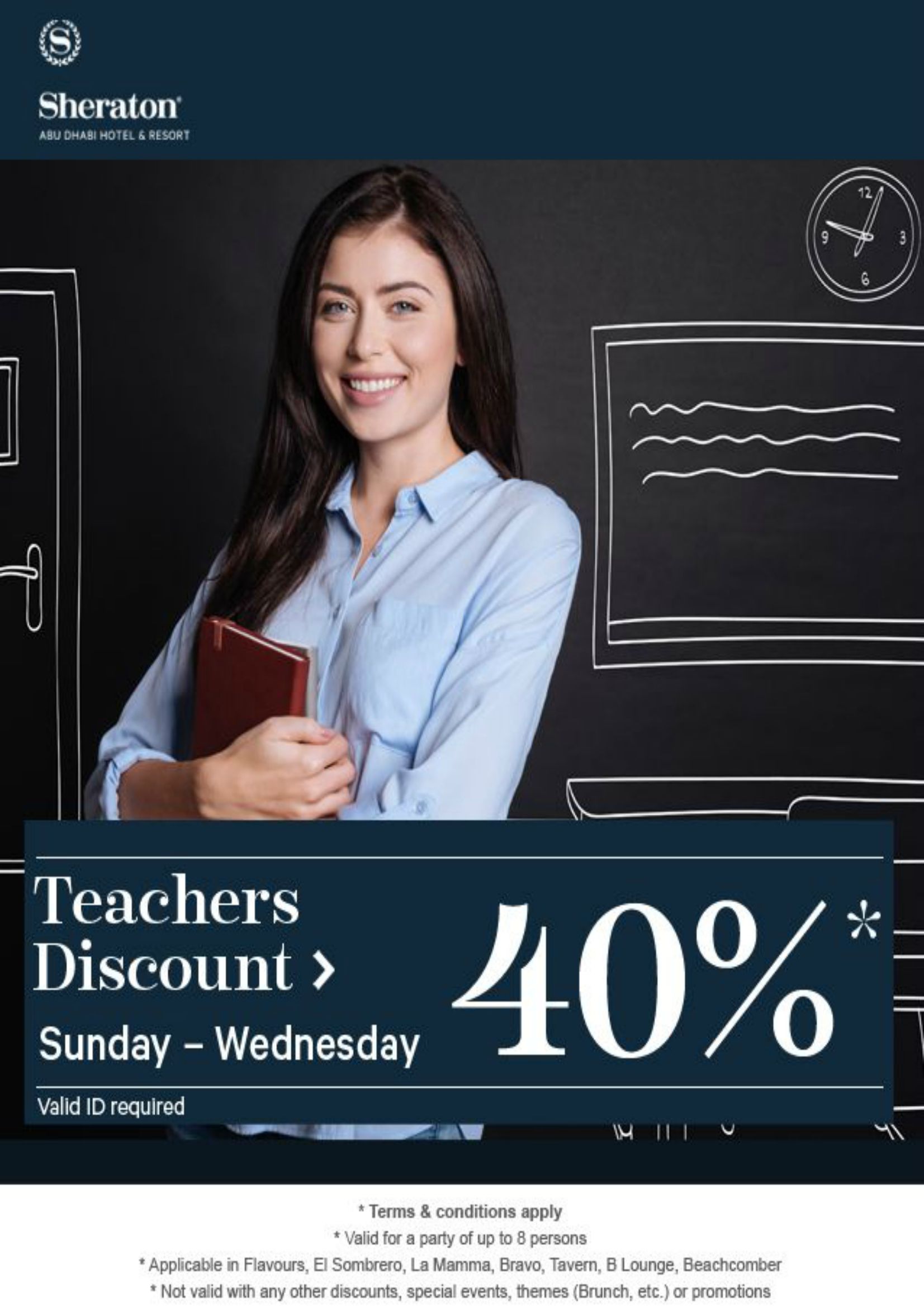 Teacher Food & Beverage Discount: 40%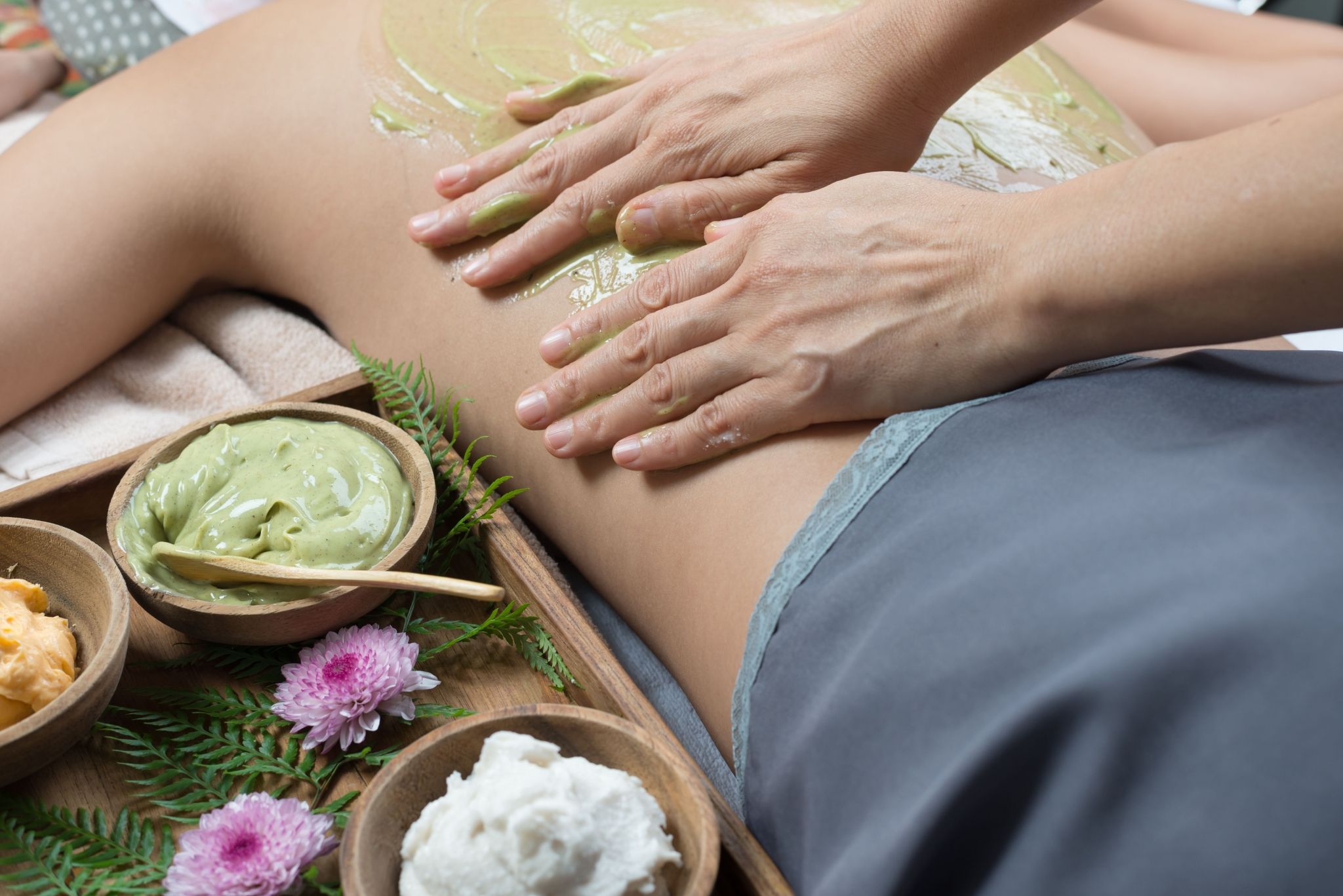 Thai Delight by "Ning"
Date: daily (excluding public holiday)
Time: 10:00 AM-10:00 PM
Venue: Health Club
Treatment time: 90 minutes
Price: AED 339 NET (AED 1239 NET for 4 sessions)
Offer valid until 28th February 2017
Advance booking is required.
An invigorating combination of a Green Tea body scrub, a mask and oil for a deep tissue massage will give you the relaxation you have been longing for.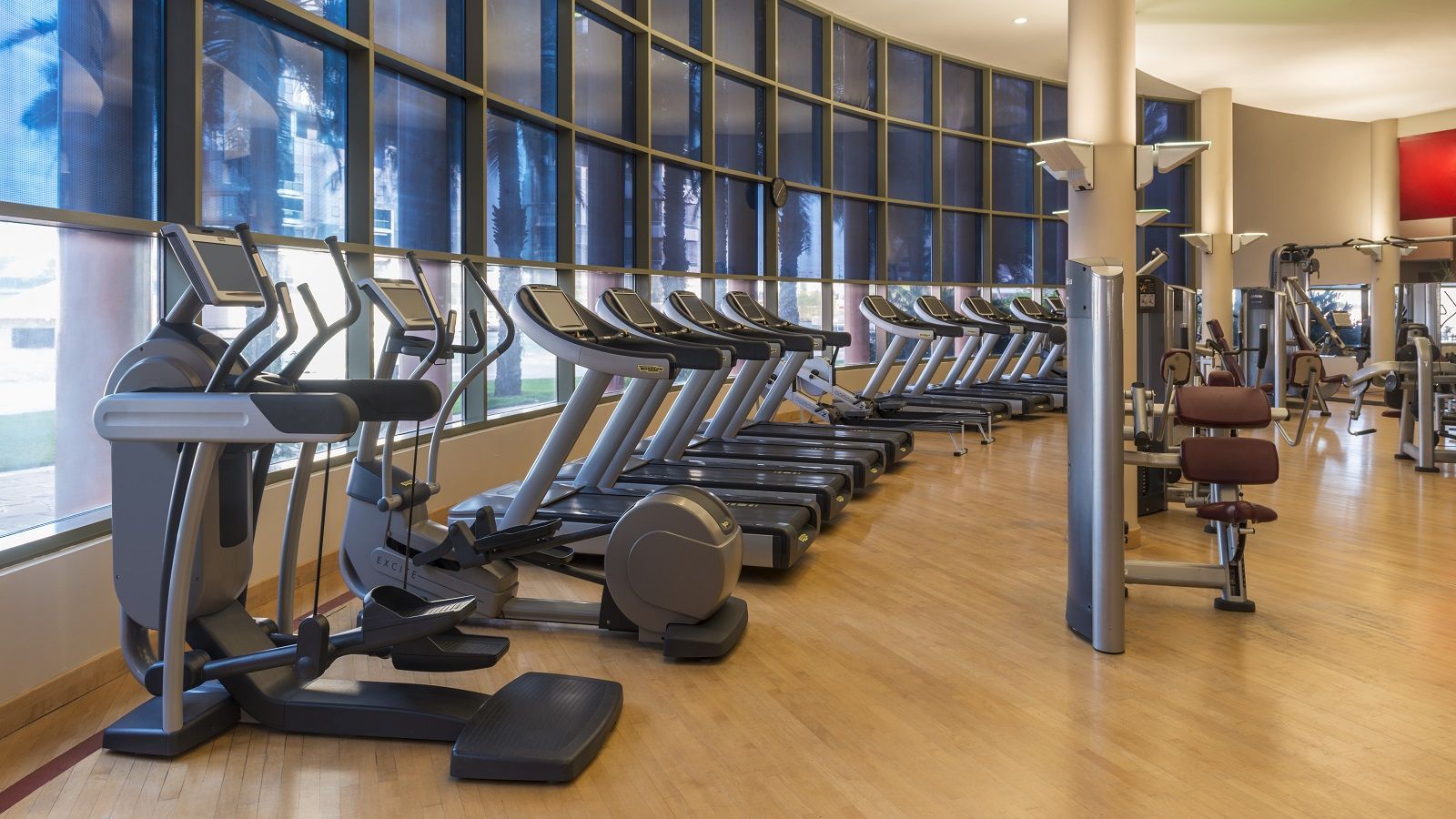 GYM MEMBERSHIP
Date: Daily
Time: 6:00 AM-12:00 AM
Price: from AED 900 (Terms & Conditions apply)
Offer valid until 28th February 2017
Sign up for Sheraton Fitness summer memberhsip and enjoy exclusive benefits.
*Prices are in AED inclusive of 10% service charge, 6% tourism fee, 4% municipality fee and 5% VAT (applicable on base price and 10% service charge)